Dublin 'Disrespect' Disturbs Chantelle Cameron
Chantelle Cameron has hit out at the reception she and her team received in Dublin as Katie Taylor rematch talk heats up.
The undisputed light welterweight champion of the world became the first fighter to defeat the trailblazing talent at the 3Arena on May 20.
The Northampton native went into the lion's den and came out with her titles, although she suggests she didn't quite emerge unscathed and without some scars.
Speaking to NoSmokeSport the Northampton native said her team and supporters were victims of some unpleasant behaviour.
"It was hostile. It was difficult", Cameron told NoSmokeSport, "I learnt a lot about myself mentally that whole week cause it was a tough week, and had to poker Face it and keep myself mentally switched on, ignoring the noise.
"That week there were little things going on behind the scenes. Things that were trying to knock me off track and mess with me.
"I just didn't feel like I was treated with much respect, I was just there as an opponent.
"I've been hearing a few bits and bobs from my friends, sponsors, and families that things were happening over there and I don't think they were very nice to some of the people that were supporting me."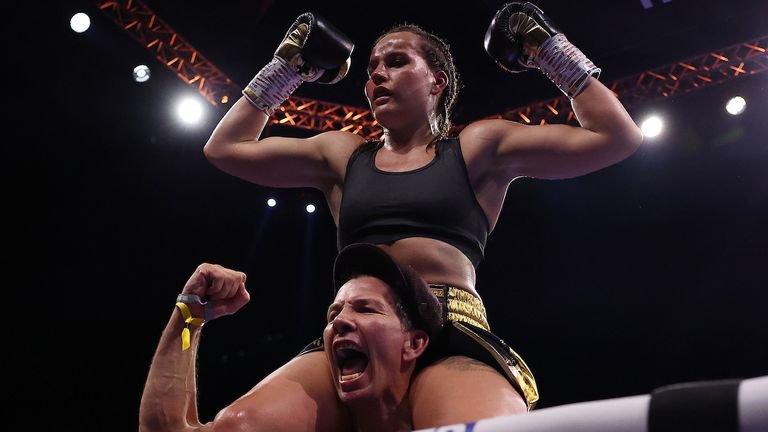 Cameron's mother in particular took umbrage to Dublin and said she won't be returning if as expected the rematch plays out in Dublin on November 25.
"My mum definitely didn't want to be coming back to Dublin. She actually told me yesterday, she's not going to come back to Dublin to support me if I go back there.
A somewhat hostile reception was always to be expected considering the English fighter came to Ireland to fight an Irish Icon in what was her first fight at home.
However, Irish fight fans will argue they showed Cameron the respect she deserved and will point out gratitude was expressed because Cameron's willingness to fight in Ireland opened up the door to a huge and long overdue Taylor homecoming. Although there was some upset with a picture taken at Dublin airport and some of the things said since.
The undefeated Jamie Moore-trained talent pushed for a neutral venue for the return but it seems her calls fell on deaf ears.
"Unfortunately what I'm being told is that it's in Dublin again, and it's for my belts again. I think it's all gonna be on Katie's terms," she said.
"I've got to go through the same procedure, not too happy with it because I would like a few things in my favour."