Thomas Carty Promises Rivals They'll get Paid to get Laid Out
Thomas Carthy has told prospective rivals that he will make sure they get paid to get laid out.
The Dublin heavyweight moved up a level when he stopped now-Scottish heavyweight champion Jay McFarlane in front of vocal support at the 3Arena on May 20.
The 27-year-old's performance in the ring and in and around fight week cemented his working relationship with Matchroom while the step-up title win has him primed for another significant move up the heavyweight ladder at the same venue on November 25.
However, despite Eddie Hearn assuring a 'big fight' for Ireland's first big man in some time on the Cameron – Taylor II bill, Carty is a bit of an opponent predicament.
The Paschal Collins-trained Bohemians supporter is at British title level, but as an Irish fighter, is too much of a risk for those chasing down the Lonsdale strap. Take into account he has moved past the journeyman stage and he is left with fewer options.
"I couldn't care less [who I fight] once we keep the meaningful fights going," he boldly tells Irish-boxing.com.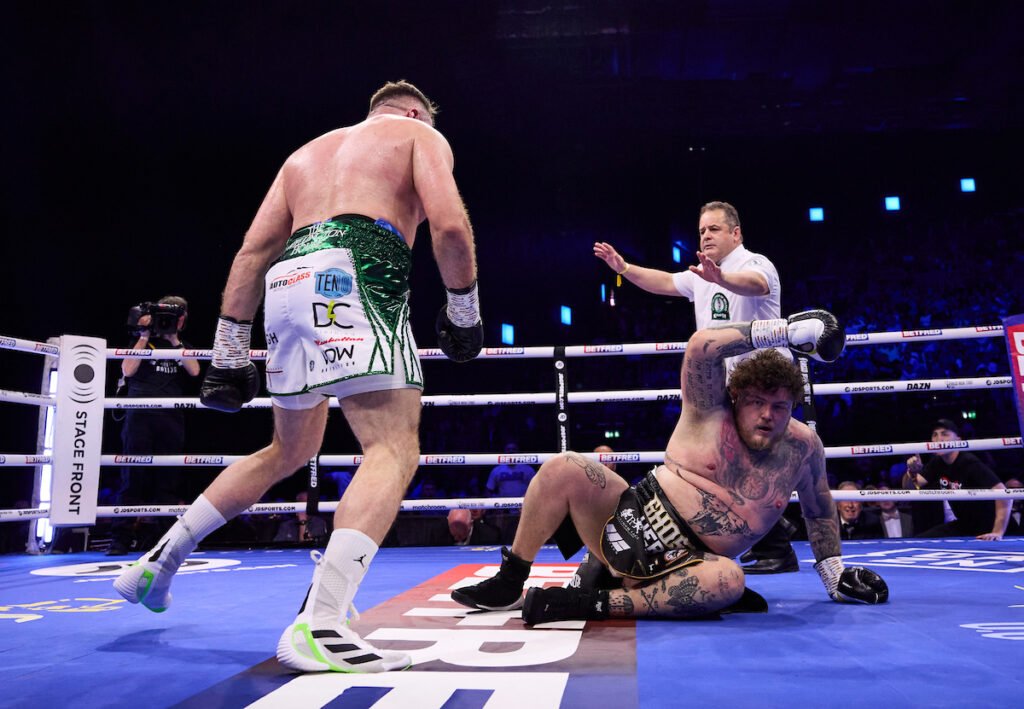 "We see what happened the last time I had a meaningful fight, we stole the show. I'm looking at people that make sense. There is the British title there, if you are going for the British title I put you in a different bracket because you all have your own business to take care of. We'll meet after.
"They have plenty of potential opponents I'm looking to see who qualifies for the Celtic and Irish title. I've no names at the moment. Hopefully, people can get active, there are a few guys who are inactive, I'm not too sure what they are doing at the moment."
The southpaw with a five knockouts from six pro fights is willing to take on all comers and notes he can assure anyone reluctant a pay day if they sign to fight.
"I'm ready and waiting, whoever wants this they can get it. I'll make sure you'll get well looked after. It will be worth thier while fighting me, it won't just be me knocking them out for nothing, they'll get a few quid and I'll get my Irish title."
Carty can promise financial reward because his Matchroom link and his massive growth in popularity.
Speaking on the increased profile he said: "We are very very close to being a household name. If you mention Irish boxers to anybody in the UK they'll say Thomas Carty and I haven't even won anything yet. I'm Celtic champion but career wise I haven't won anything I plan on winning."