Jay McFarlane Hails 'Real Deal' Tomas Carty
He may not like his taste in football teams, but Jay McFarlane likes what Thomas Carty brings to the heavyweight table.
The Scottish heavyweight says the Dublin big man is the 'real deal'.
'The Ghost' came to Dublin earlier this year in a bid to haunt the Celtic Warrior Gym fighter but failed. Carty stopped the well-travelled always-game battler to become the first-ever BUI Celtic heavyweight champion.
It was the fastest anyone has gotten the Scott out of there, which is proof he is a talent of note, points out McFarlane.
The 25-year-old, who has won more than he's lost and has shared the ring with a number of up-and-coming heavyweights, says he was surprised at how technically proficient Carty is and believes that mixed with some fighting spirit will see him go a long way.
"He's the real deal," McFarlane tells Irish-boxing.com.
"He's very very sharp and well schooled, reminds me of Guido [Vainello] in that sense but he's also got that Irish dog in him.
"I was very surprised and how technically cable he was, I thought he was more of a hands down let's brawl type of fighter but he was very sweet in his movements and accuracy."
Before they threw down in the ring McFarlane and Carty exchanged verbals in fight week. The former Scottish title challenger even decided to take up supporting Shamrock Rovers to get under the Bohemians mad Carty's skin- and it worked.
He says it's all love now the war is over but he still remains a Rovers fan.
"Any football team that supplies me with a kit to piss off and opponent, I will be a fan of for life," he adds. "It got heated because I made it that way. I played the villain to get a rise out of him and it worked!
"We are golden now, like we both said we will go in there have a proper knock and go for a drink after. That's exactly what we done! We had a good laugh about how much I got under his skin because before and after we really get on with each other."
I'll lways have and always will respect Thomas as a man and as a fighter, me and him get on really well."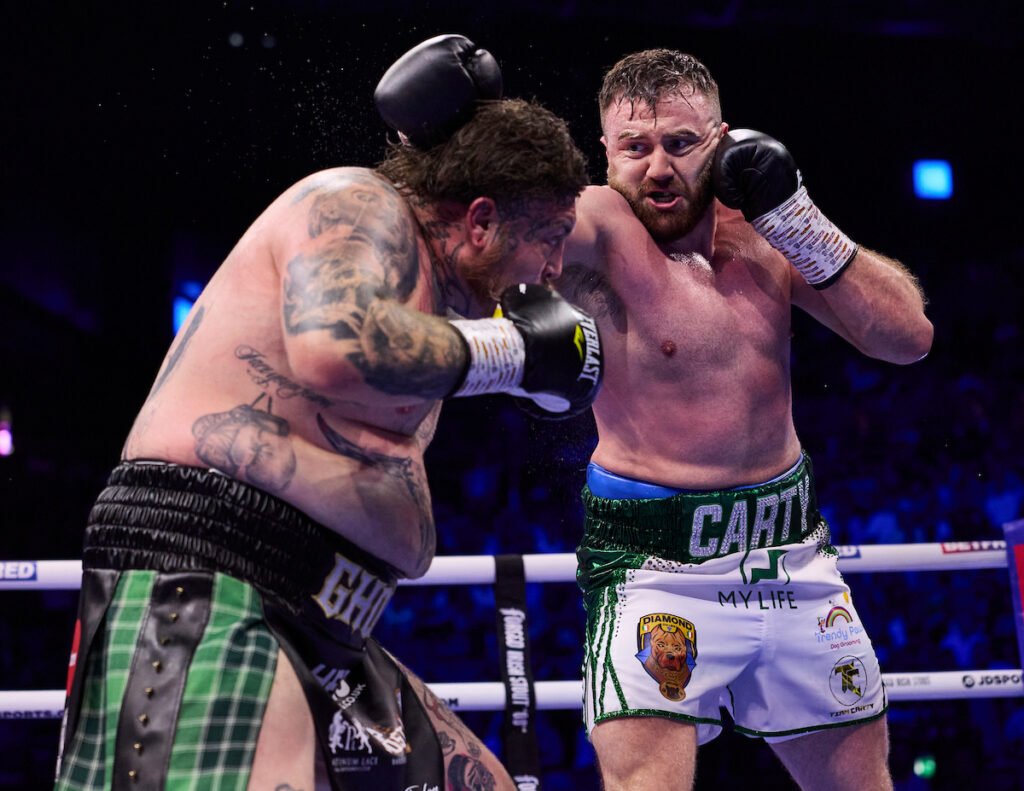 Now with Carty, who will return to Dublin on the Taylor-Cameron II card, in his rearview mirror McFarlane has his sights set on the Scottish heavyweight title.
"Next for me is September 2. I enter the ring in my fourth title fight as I bid to win the Scottish heavyweight title, my second stab at the belt. I will win it to become the first simultaneous two-weight Scottish champ at cruiserweight and heavyweight, after that who knows!"