Big ask for underdog Dubois – can he topple Usyk?
When it comes to heavyweight boxing, we all know that one punch can change a fight. Even the most limited of underdogs can occasionally defy the odds with a well-timed haymaker that catches a classy champion on the chin and sends the division into a tailspin. If there's one thing upcoming heavyweight title challenger Daniel Dubois can do, it's punch hard.
However, the 25-year-old has a slight problem. His opponent on August 26 in Wroclaw, Poland is one of the finest fighters on the planet today. Ukrainian master Oleksandr Usyk unified an entire division, winning every fight on the road. The 36-year-old won an Olympic gold medal in 2012 and swept up numerous amateur accolades before that. This silky southpaw moved up to heavyweight, won the IBF, WBO and WBA titles, defended them against the same man and still has yet to face defeat in a mere 20 outings. That is what Dubois is up against.
Mission impossible? Dynamite Dubois needs the performance of a lifetime
Sporting a 19-1 slate, with the sole loss coming to Joe Joyce in the sterile echoes of a mid-Covid Church House, Dubois is a relative baby in the land of the giants. This shot is coming too soon for a fighter of his experience and ability. But when opportunity knocks, plus a couple of million pounds along with it, you've got to answer the door and accept your fate.
Now trained by Don Charles, following a peaceable split from Shane McGuigan, few are giving the away man much of a chance. He probably punches harder than Usyk's most recent back-to-back opponent, Anthony Joshua, and has won four in a row since the Joyce upset. That run includes a fringe WBA "world" title. There are levels to this sport and while those wins came against the likes of Bogdan Dinu and Trevor Bryan, Usyk is an amazing specimen.
Apart from his respectable dig, Dubois can box a bit and is certainly no pushover. Whether he has the tools to get close enough, for long enough, to land the consecutive shots needed is a matter for debate. While the likes of Ebenezer Tetteh and Kyotaro Fujimoto were ill-equipped to evade the bombs, Usyk will be constantly circling, jabbing, moving, giving plenty of angles to a man whose best win is probably Nathan Gorman.
The Kevin Lerena fight was alarming for Dubois. While he displayed tremendous heart and courage to bounce back from heavy knockdowns and finish off a live opponent, the manner of the fight was a red flag. Lerena is a career cruiserweight who found Dubois easy to hit and put down. Any greater foe would've finished the job on a prone opponent that night.
This fight, plus the closed eye against 'Juggernaut' Joyce, leads some to point to a potentially fragile frame. Dubois reportedly suffered a serious injury in the Lerena bout. Having someone like Usyk turning him with perpetual motion attacks is not going to be good for the knees. On the plus side, there is little pressure on Dubois who will be travelling away from home, tasked with landing the one big equaliser required to bring home the belts in what would be a seismic heavyweight shocker.
Usyk's manager Egis Klimas is already looking ahead. He hopes victory over Dubois will lead to the fight we all want to see, against Tyson Fury. If Dubois were to pull off the shock win, you better believe a fight with Fury would be made within days. They might even pull out of the Ngannou fight to make it all happen even quicker! There is no rematch clause for Usyk-Dubois so, barring a contentious ending, both men can move on afterwards.
Apparently IBF mandatory Filip Hrgovic is taking himself over to Poland to watch the fight from ringside. He'll be breathing down the neck of Usyk and the IBF to get a shot at the winner. Hrgovic has looked less than impressive in his last two outings, first arguably losing to Zhilei Zhang and then pulling out a late KO over Demsey McKean following 11.5 rounds of mind numbing repetition.
Both Zhang and McKean are southpaws, as is Usyk. Hrgovic is slow but can clearly bang. You could see Usyk's straighter shots hitting the target quicker than Hrgovic's wider efforts. Plus, Usyk sets a pace that the Croatian is unlikely to be comfortable with.
Anyway, back to August 26. One man who is confident of Dubois' chances is his promoter. Queensberry head honcho Frank Warren has apparently guaranteed Dubois' victory. That said, Frank is also busy defending the lineal heavyweight champion Tyson Fury's ill-timed foray into the world of circus fighting so he hardly has much credibility at present in the hyperbole region.
I caught up with trainer Don Charles a few weeks ago online and he told me about their intensive camp in Spain as I tried to tease out some of the secret methods Team Dubois would employ to upset the beast.
Giving little away in terms of tactics, Don closed our chat with a rallying call for support. "Let's get behind this young man!" he implored.
KIKO MARTINEZ RETIRES FROM BOXING
The pint-sized pocket rocket Kiko Martinez announced his retirement during the week. After spending 19 years travelling the world, upsetting local fighters with his own straight-forward brand of power punching, Kiko hung up the gloves with a 44-12-2 record. The most glaring statistic on that slate was the 31 knockouts. Make no mistake, 'La Sensacion' was a noted finisher.
Kiko's breakout performance came in 2007 when he travelled to Dublin to stun Bernard Dunne, knocking the defending European champion out in the first round. He lost that title in his first defence to Rendall Munroe. Munroe outboxed him again in a rematch the following year.
Over the years Kiko cemented himself as a cult hero in UK boxing, mixing with the likes of Jason Booth, Carl Frampton (twice), Scott Quigg, Josh Warrington (twice), Zelfa Barrett, Kid Galahad and Jordan Gill. Even in defeat he was always dangerous and ultra competitive, with some of the losses still being debated to this day for various reasons.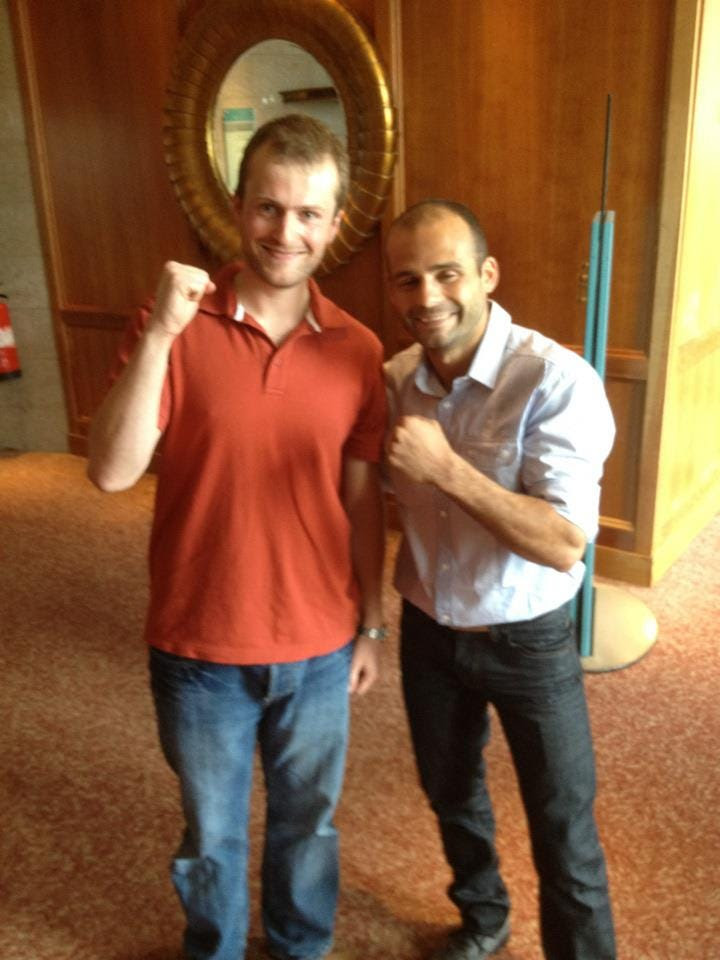 Height and reach advantage: Young Wellington with Kiko
On the international scene he boxed Gary Russell, Leo Santa Cruz and travelled to Japan in 2014 to cause a big upset when stopping Hozumi Hasegawa for the IBF super-bantamweight title. There was just no slowing down Martinez who became a speed dial option for Eddie Hearn in his latter years.
It was a testament to Carl Frampton's abilities to say that 'The Jackal's' adaption and eventual dissection of Kiko in 2013 was one of the most decisive displays against him. In fairness, Scott Quigg's second-round beatdown of the Spaniard in 2015 was a fantastic way of setting up the domestic showdown with Carl the following year.
Based in Ireland for spells of his career, managed for a while by Pat Magee, I interviewed Martinez on many occasions (see above). Even though he could not speak a word of English he was a personable character, small in stature but big in personality. I'm not sure what he will do next but the man who perpetually looked 37 has certainly earned his retirement.
Talking of retirements, Kiko looks like a relative spring chicken compared to Firat Arslan who also called it a day this week. The 52-year-old German of Turkish descent turned pro way back in 1997 and fought his way into title contention around the 2006 mark before defeating an ageing Virgil Hill for the WBA cruiserweight crown. Arslan's 2014 split decision loss to Yoan Pablo Hernandez sticks out as an exciting, closely-fought affair.
Firat had a number of early bouts in England and fought for the last time in May of this year, scoring a first-round KO. He left the sport on a seven-fight winning run, all by KO, and many in a Stuttgart sports centre named after him. Arslan's final loss of a 65-fight career came back in 2020 to Kevin Lerena.
---
THE RISE OF WEEKDAY BOXING
Everybody loves a Saturday fight night. The timing makes sense for the majority, hours after the football has finished, filled up with beers, no work the next morning, to unwind at a show or in front of the telly watching a series of fights.
We've seen promoters veer away from that strict model in recent years as the PBC, Floyd Mayweather, Matchroom and others have experimented with a little taste of Sunday evening fare. Although technically part of the weekend, Friday evenings used to be utilised by Sky Sports for domestic shows. You may recall the likes of Lee Haskins, Kevin Anderson, Ali Nuumbembe and Francis Ampofo all throwing leather on a Friday evening.
Now, Pro Box TV runs shows on a Wednesday night, mostly from their Florida base. Canadian outfit Eye of the Tiger Management go on Thursdays, live on ESPN. ShoBox showcase their prospects, usually in tough 50-50 matchups, on Fridays, along with Channel 5 in the UK and the new OTX: Overtime Boxing on DAZN. For the boxing hardcore it's great to spread these shows out across multiple days, meaning less pressure to consume a whole pile of action, across numerous competing platforms on a Sunday morning (on increasing watch speeds as the day goes by and prep for the upcoming week needs completed).
Last Friday saw another packed evening of action. On TNT Sports (formerly BT) Dennis McCann and Ionut Baluta engaged in an entertaining headliner that ended in the ninth round on a technical draw. McCann was cut after a clash of heads and his face resembled a mask of blood. Dennis' team toiled to stem the bleeding round after round and it was eventually called to the cards.
Clocking up early points behind his snappy southpaw jab, McCann, 22, found the middle rounds heavy going as the unorthodox Romanian lunged in with left hooks from a variety of angles. No respecter of reputations, Baluta is the ultimate gatekeeper to the top. If you're unprepared or lacking the skills you'll struggle to repel him.
Battling it out in front of a vociferous York Hall crowd, the scores of 86-85 in favour of 'The Menace' were cancelled out by a pair of 86-86 verdicts leaving them tied up. Once McCann heals, a rematch is in order to settle this one.
---
BOXING GOES OVERTIME FOR THE FIRST TIME
Later on in the evening on DAZN, OTX were back in Georgia for a night of action. These enjoyable cards are often populated by well-matched scraps along with upcoming prospects and opponents with a point to prove. One such point prover was Javon Woodard Jr (listed on BoxRec as Javon Campbell) a former Floyd Mayweather prospect who suffered his second pro loss after nine rounds of action against Lorenzo Parra Jr.
You didn't read that wrong, it ended up as a nine-round affair because after eight hotly-contested rounds the bout had to be decided by an "overtime round", the first of the Overtime Boxing innovation. The crowd were whipped up for the extra three minutes and things became oddly exhilarating as the gimmick was realised for the first time. Parra landed the harder shots according to the judges and sent his opponent home with another blemish to contend with after the deciding session.
Keep an eye on Javier Zamarron. The 22-year-old featherweight from Milwaukee improved to 5-0 (3 KOs) after dropping Sebastian Santiago in the opening round and outpointing him over four rounds. Zamarron was a former quality amateur, winning the National Championships in 2021.
---
NUTHOUSE NOTES
Janibek Alimkhanuly and Vincenzo Gualtieri will unify their respective portions of the middleweight silverware on October 14 in Texas. WBO champion Alimkhanuly has long craved a step-up opportunity and has been vocally goading WBC holder Jermall Charlo to crawl out of the woodwork and face him. German Gualtieri is an unknown quantity having picked up the vacant IBF crown in July with a unanimous points win over Esquiva Falcao. Gualtieri floored the unbeaten Brazilian twice in that contest.
Photo Credit: Pro Box TV
Talks are reportedly ongoing in a bid to nail down a fight between Naoya Inoue and Marlon Tapales. The Filipino entered the ring after Inoue's blast out of Stephen Fulton to offer his services in a unification bout which is now expected to take place in December. Inoue took the WBC and WBO titles off Fulton during his rout, while Tapales was a surprise victor over Murodjon Akhmadaliev for the WBA and IBF 122-pound straps. The winner will join Terence Crawford as the only other two-weight undisputed king in boxing.
And finally…happy birthday to Don King who turned 92 recently. The Don was born way back in 1931 and despite his many critics and nefarious practices still holds remarkable staying power. Clambering into the ring to wave his little flags, while adorned in a trademark denim jacket, King refuses to go away and is promoting fringe fighters on semi-relevant shows even today.
---
About Steve: Experienced boxing writer, author of 8 books and podcaster of over 400 eps. 20 years in the sport. Covered hundreds of shows for newspapers and Boxing News magazine. Chief video script writer for Motivedia channel and BN+. For enquiries: stevenwellings1982@gmail.com.