The class of 2023 – INTRODUCING the European U22 Squad
A 15 Irish team have arrived in Budva, Montenegro where they will contest against Europe's finest in the European U22 Championships.
All 15 will be targeting medals in a tournament that ends on November 20.
Ireland had a very successful campaign at the 2022 European U22 Championships in Porec, Croatia, in March of that year, returning with 3 gold medals, 1 silver and 3 bronze medals. The golds were claimed by heavyweight and now Paris 2024 Olympian, Jack Marley, Lisa O'Rourke who would claim a World gold just 2 months later, and 54kg Niamh Fay.
The women's team finished joint 2nd in the tournament's medals rankings and 3rd out of 24 countries in the team rankings. Turkey and Italy were in first and second, respectively.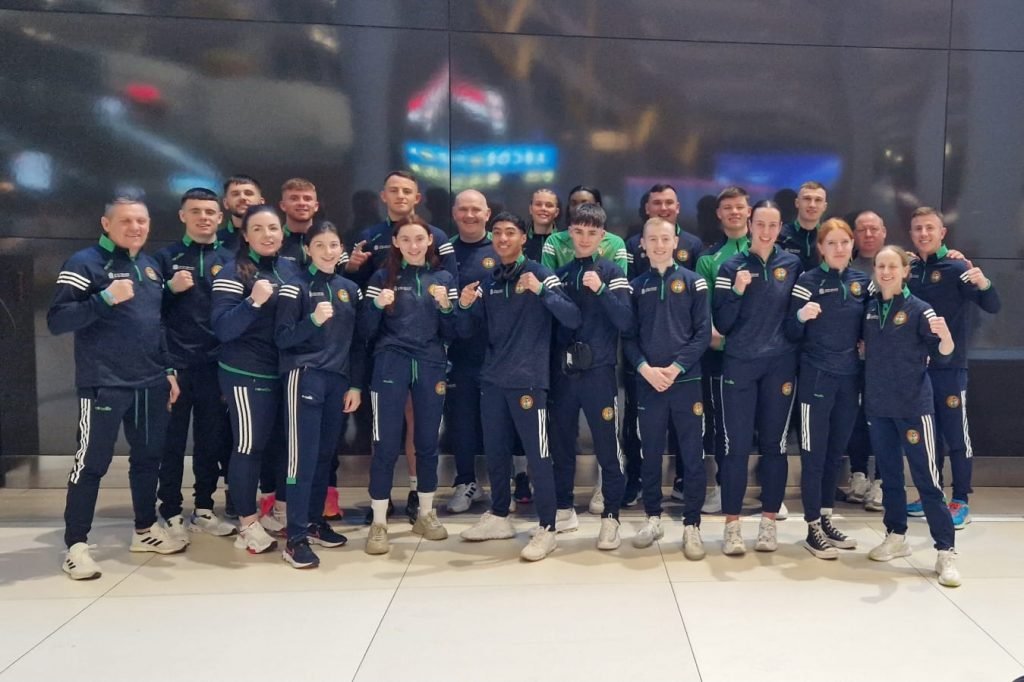 The men's team finished 7th out of 33 nations – Turkey and Ukraine, with 13 boxers apiece, finished in first and second, respectively.
The class of 2023 will be hoping for similar success and no doubt a star or two will be born over the coming weeks.
We here at Irish-boxing.com had a look at the team in a bid to introduce them to the Irish fight followers.
INTRODUCING THE EUROPEAN U22 CLASS OF 2023
48kg Nicole Buckley, St Carthages BC
Nicole Buckley enters the European Championships in form.
The St Carthages flyweight followed up her Under 22 National title win with Celtic Box Cup and Haringey Cup success. Now having a tasted for winning abroad the 2022 Senior champion sets her sight on a European medal.
50kg Chantelle Robinson, Saviours Crystal BC
Chantelle Robinson represents Ireland in a major international competition for the first time.
The Waterford-trained Tipperary native claimed her first Irish title when she celebrated U22 success earlier this year and now sets her sights on International honours.
57kg Robyn Kelly, Ballynacargy BC
Robyn Kelly is a European veteran and a decorated one at that.
The reigning U22 and Senior Champion has medalled at Euro Schools and Junior level and will be looking to make it a continental hat trick.
The nine-time Irish titlist is one of the younger team members but is an established boxer and has genuine medal hopes.
The young sister of Wayne Kelly was last seen winning the Senior title.
70kg Evelyn Igharo, Clann Naofa BC
Evelyn Igharo is back in the international frame and could end her mini comeback with a medal win in Budva.
The former underage standout ended a break from the sport by winning the U22 title earlier this year.
The Dundalk Dynamo is now back on the international stage and the European Youth silver medal winner hopeful of adding to her continental collection.
75kg Bethany Doocey, Castlebar BC
Middleweight Bethany Doocey will be hoping it's third time lucky at European level as she targets a podium finish in Montenegro.
The Castlebar native appeared at this level in Croatia last year and was a 2018 European Junior contestant. The 21-year-old fell at the first hurdle to quality opposition on both occasions but comes into this tournament more mature and in the form of her career.
81kg Dearbhla Tinnelly, Clann Naofa BC
Dearbhla Tonnelly doesn't enter tournaments just to take part. The lastest Louth lady of note in Irish boxing always sets her sights on a medal and more often than achieves her targets.
Last year she romped home to European youth gold and followed this up with a silver at the Worlds, playing a captain's role and leading by example in Spain.
48kg Padraig Downey, St. John Bosco BC, Antrim
The latest 'wee man' off the Belfast production line travels to his second successive European U22 championships.
The St John Bosco man will be hoping to go at least one better than he did in Croatia last year by reaching the semi-finals.
51kg Clepson dos Santos, Holy Trinity BC
He may be just 19 but Clepson dos Santos is one of the more experienced members of the team.
An Elite Championship finalist, the Holy Trinity man has Commonwealth Games experience and has been involved at this level before.
Dos Santos was part of the European U22 team that was nominated for RTE Team of the Year in Croatia last year but didn't bank a medal for himself, something he will be confident of changing this time around.
54kg Donagh Keary, Rathfriland BC
Things are finally coming together for late bloomer Donagh Keary. The 19-year-old was always deemed one to look out for but has only really found his big fight night feet of late.
The aggressive Rathfriland boxer goes into the tournament on the back of a Senior title win and is the reigning U22 Irish champion. He also takes huge confidence from his sparring with senior internationals Jude Gallagher and Dylan Eagleson and recently told Irish-boxing.com he wants gold in Budva.
60kg Rhys Owens, Erne BC
Rhys Owens is proof of why you should never give up on your dreams. The Erne man has battled gamely over the years and while he was always there or there about was rarely THERE in terms of titles.
The 2021 Ulster Intermediate champion finally got over the Irish title line at the last U22 Championships installment and earned the right to represent his country on the International stage.
He travels to Budva in the form of his career looking to make light work of the best lightweight has to offer at European level.
63.5kg James "Shamie" McDonagh, St Paul's Waterford
'Boxing isn't the only option' for Shamie 'don't call me James' McDonagh but it is a good one.
The boxing barber and TikTok star has won Irish titles right through the age groups at in competitive weight classes.
The Waterford 20-year-old was part of a team that took home a record-breaking 3 gold medals, 1 silver, and 3 bronze from the European U22 tournament in Croatia last year but didn't bank a medal for himself.
He will be hoping to put that experience to good use in Budva where a medal will be the goal.
67kg Gareth Dowling, Dublin Docklands
The star of the U22 National Championship makes his major international bow in Budva.
The Dublin Docklands fighter all but burst onto the scene winning the domestic tournament courtesy of four stoppages over four fellow emerging talents.
The manner of the win has increased attention around the Dub and many will be interested to see how he fares against Europe's finest.
75kg Gavin Rafferty, Dublin Docklands
This isn't Gavin Rafferty's first European rodeo but he will be hoping to hang on until at least the medal stage this time around.
The Duleek native wore the Irish crest at the 2017 European Junior Championships and the 2105 European School Championships, exiting at the quarter-final and prelim stage respectively. He will be hopeful of improving on those finishes this time around.
Rafferty is another who would have been fancied to do well in the Elites, he defeated the reigning 75kg champion, Christopher O'Reilly in the 2022 Senior decider, proving his adult credentials.
80kg James Whelan, Dublin Dockland
Eight-time Irish Champion James Whelan goes in search of a first major international medal in Budva. The fighter who is regularly the best at his weight in Ireland hasn't had too many chances to wear the green vest, Covid playing a big part in that, but did represent at the European School Boys in 2017.
The Dublin Docklands fighter exited at the quarter-final stage but has his eyes on a medal this time around, indeed he told Irish-boxing.com he fancies gold.
Whelan also enters the tournament in good form stopping three opponents en route to National Senior success this month.
86kg Kian Hedderman, O.L.O.L BC
'Mean' Kian Hedderman represents Ireland in a major international tournament for the first time. The popular Limerick man has literally come from nowhere to become a boxer deemed one of the best young talents in Ireland.
The O.L.O.L puncher, who regularly works alongside Paddy Donovan and co in Limerick City, took up boxing three years ago but has already claimed U22 and Senior National Elite crowns.
The Treaty county youngster was fancied to do well at 86kg in the Elites but elected against entering deciding to test his International credentials instead.