Like Father Like Son – Joe Ward Jr one of a number of interesting new Irish Champions
The son of one of Ireland's greatest-ever amateur boxers collected a first-ever Irish title at a venue where his father enjoyed massive success over many years.
Joe Ward Jr, son of current light heavyweight pro and three-time European Championship gold medal winner, three-time World Championships medalist, and 2016 Olympian, Joe Ward found himself in the National Stadium spotlight last weekend.
The youngster won his first Irish title after three impressive wins over the Easter holidays.
Ward, who represents Athlone BC, claimed the 43kg National Boy 1 title with victory on Friday afternoon.
Ward was just one of over 100 champions crowned over a busy week of Boy & Girl 1,2,3 and 4 Championships at the home of Irish boxing.
Another eye-catching win was registered by Gary McComb in the Boy 3 Championships. The Belfast youngster became Midland's first Irish title winner since all-time Irish great Carl Frampton.
All the best to Gary McComb before he heads to the All Irelands tomorrow. He could be Midlands first Irish Champion since myself and he'll have won an Irish title much quicker than me if he does 💪 pic.twitter.com/aMCY4NgAwL

— Carl Frampton MBE (@RealCFrampton) April 12, 2023
'The Jackal' won the Irish Senior Flyweight in 2005 and in 2008 he went on to beat David Oliver Joyce to claim the featherweight title in one of the more famous Irish deciders.
McComb won the Boy 3 National title at 44.5kg for the club.
Mya Gethins, a younger sister to novice pro Aaron Gethins, was another to celebrate a maiden Irish title win winning a Girl 1 title at 37kg in the crest of Ballinacarrow.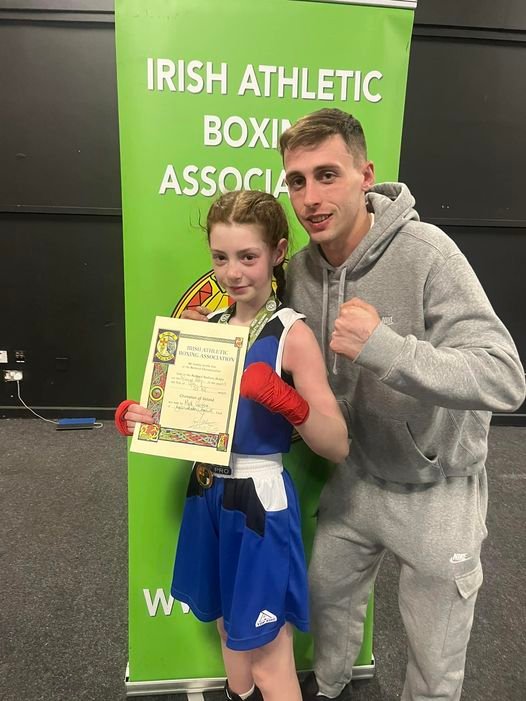 Senan Kennedy the son of cut man and behind-the-scenes Irish fight character Mark Kennedy won a second Irish title when the Cabra prospect became Boy 3 72kg champ.
Ciaran Gunning, son of Boxing Ireland promoter and Irish boxing personality Leonard Gunning enjoyed a run to the final but lost out via split decision in the 35kg Boy 2 decider to Tyler Moore of Sacred Heart.