Katie Taylor is Chantelle Cameron's Ticket to Greatness
Chantelle Cameron believes to be the best you have to beat the best hence her desire to fight and beat Katie Taylor.
The Northampton native takes on the trailblazing game-changer on top of a massive Matchroom card on May 20.
The undisputed light welterweight champion comes to Dublin knowing a lot more than her titles are at stake.
The Jamie Moore-trained boxer knows a Taylor fight comes with a huge legacy opportunity and it's one she wants to take.
Cameron plans to write her name in the boxing history books and become a great becoming by becoming the first woman to defeat all-time great – and also seems to understand victory over the leading lady could open a door to her becoming the current star name.
Speaking to the press in Dublin she said: "Katie is pound for pound the best women's boxer there is For me to have that challenge and to box her and get the win, I feel I'll be able to walk away from boxing one day and know I took out the best there is. What an achievement it would be. I've become undisputed and that was the goal. Now the goal is to take out the best there is."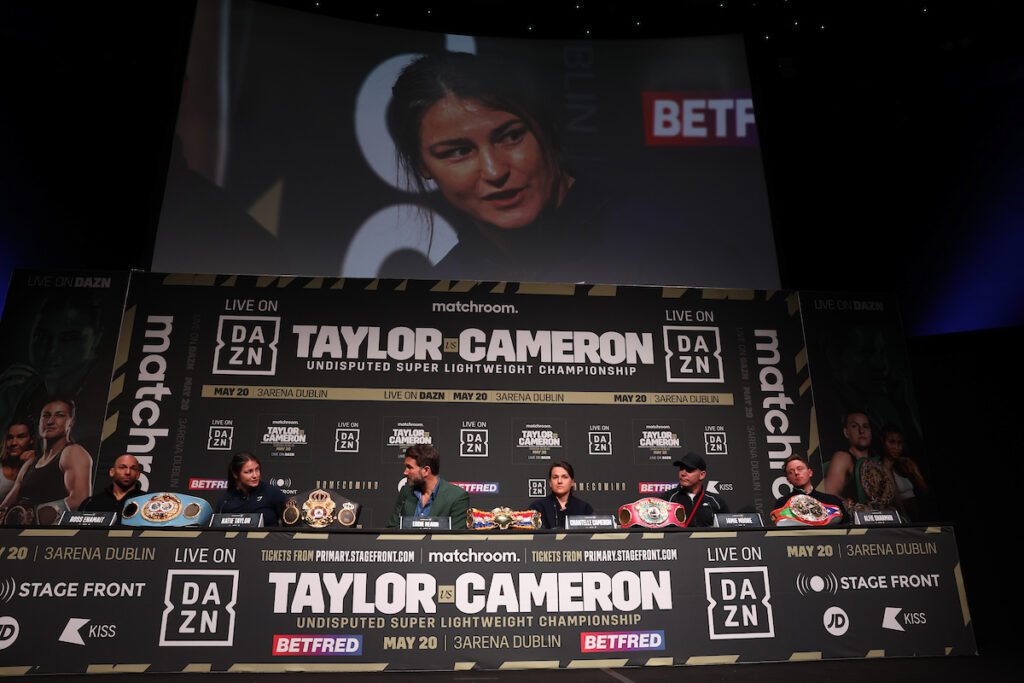 Cameron is excited by the test that awaits and is confident she has the attributes to pass it.
"I have the strength and power. Katie is going to be my toughest fight, there's no point saying otherwise. This is the hardest fight I'll probably ever have. That was excites me and gives me that hunger.
"It gets me up in the morning and out running because I know it's the biggest challenge I'll have in my boxing career."
While Cameron is willing to bow down to the Queen of boxing on May 20, she wasn't shy about admitting she respects the Irish superstar and is grateful for all she has done for women's boxing.
"I'm just buzzing to be in the position. I have to say all thanks to Katie because women's boxing is flying. If it weren't for Katie and Clarissa Shields, none of us would be in this position. This is my career and my legacy. I'm coming to win and I'm also so glad to be part of the event as well."