Katie Taylor versus Chantelle Cameron rematch route
One of the biggest events in the history of women's boxing is to about to reprised. And as a result, boxing fans, commentators and sports enthusiasts will be gearing up for one of the fights of this, or any other year. And then there are the online sports betting sites who will be busy marketing what will be one of the biggest draws of 2023. Indeed, a quick bet365 review, for example, in the next few weeks will have this bout down as one of the biggest boxing futures / ante-post markets available. Ladies and gentlemen, welcome to Katie Taylor Vs Chantelle Cameron II.
Cameron put in a sensational performance to beat home favourite and the previously undefeated Taylor at Dublin's 3Arena back in May.
Irish boxing fans were left devastated by Taylor's defeat to the Briton back in early summer. The fight marked the homecoming of the queen of Irish sport – a first professional bout in the country Taylor so proudly calls home. But a glorious homecoming it wasn't to be as Cameron put in an immense display and secured a deserved victory on points. Two judges gave the fight 96-94 in Cameron's favour, with the third settling on a draw.
The potential rematch between the two – Taylor has apparently involved a 'rematch clause' in the original fight contract – will be once again held at Dublin's 3Arena, not Croke Park as rumours had suggested. It appears the fight will also take place at a different weight class this time around – at Taylor's world-championship-belt-holding class of lightweight. May's fight saw Cameron defending her titles at super-lightweight. The undisputed champion will now have a chance to become a two-weight world champion if she defeats Taylor for a second time in Dublin.
It appeared that Cameron was originally searching for the prospect of taking on Amanda Serrano. However, Matchroom boss and promoter Eddie Hearn quickly dispelled any possibility of that fight taking place by revealing Taylor only had one thing on her mind – a chance to revenge her defeat.
"It's gonna be a huge fight. There was no talking Katie Taylor into any other fight. All she wanted was a chance to rematch Chantel Cameron", Hearn said.
Taylor, of course, is arguably the greatest boxer in the history of the women's fight scene. The Bray native cemented her legacy with her win over Serrano in the surrounds of Madison Square Garden back in 2022. Indeed, Serrano was originally intended as her opponent at the bout in Dublin in May of this year, only for the Puerto Rican to withdraw through injury. Cameron stepped in as a late replacement for the legendary seven-division champion.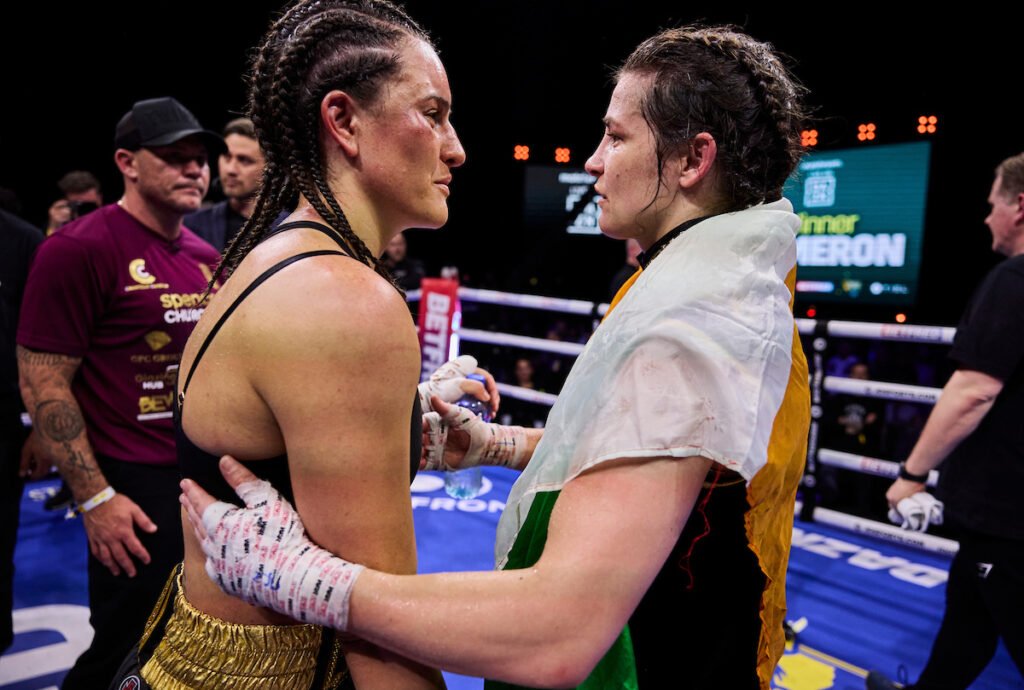 Yet Cameron came into the fight with her calibre already established. In her previous bought, a win over Jessica McCaskill in Abu Dhabi, the British boxer secured the WBA and WBO titles, adding to her haul of IBC and WBC belts, therefore becoming undisputed champion in the super-lightweight class. Cameron may have been seen by some as just a replacement, but in securing victory, the Northampton fighter more than proved her class. And her post-bout comments proved that Cameron felt she had been a little bit disrespected in the build up to the original fight.
"What champion accepts a fight like that? I wasn't treated like the champion that week. I was just there to turn up. But my team knew I was there to ruin the homecoming," a clearly amped up Cameron stated.
With Taylor, Serrano and Cameron all on the scene, this is a golden age of women's boxing.
And now with Taylor Vs Cameron II on the cards, it's time to get on the ante-post odds without delay with the top bookies set to reveal their odds for the rematch which looks set for the same venue as the original bout on November 25. Check out the sports betting sites to see where best to place those wagers ahead of the big match-up.