The Death of Showtime Boxing
HBO won't be coming back! Plus, Catterall eyes Taylor revenge
This article originally appeared in Steve Wellings' Substack
In the latest installment of boxing's slow decline, Showtime Sports decided they'd had enough and announced a ceremonial exit from all things hand-to-hand combat.
A Paramount Global statement explained in the usual jumble of corporate speak:
"As we evolve our strategy to more efficiently allocate resources and align our content offering across the business, we've made the difficult decision not to move forward with boxing and other content produced by the Showtime sports team.

"Showtime will continue to air and support the remaining 2023 boxing slate and honor obligations through the end of the year."
Originally, we were led to believe that Showtime would continue with the PBC until the end of 2024. At least that's 14 months of action to help us ease into a period of fistic sobriety. However, that has been brought back a year to the end of 2023. What changed in a matter of weeks is anyone's guess.
The move itself comes as no great surprise. Ratings have been reportedly declining for a while. More and more pay-per-views and fighters getting overpaid is not fresh news. It has been an ongoing concern ever since brave fund managers at Waddell and Reed decided to hand Al Haymon a bountiful war chest which many believe he has squandered.
Hooking up with Fox Sports and Showtime, Al went about flashing the cash right away to make some engaging matchups featuring high-level fighters. Apart from boxing, what other sports does "Showtime Sports" even televise? Boxing, (American) football, MMA and more, according to the spiel on its website, although only boxing features prominently as you scroll down the page. Lead commentator Mauro Ranallo is regularly pushing the UFC/MMA angle. It could provide a natural home for him now.
For so long, ShoBox prided itself on creating the world champions of tomorrow. It will also feel the axe as unbeaten Argentines and unknown Panamanians now search for a new place to scrap for their futures. The rest of Showtime will continue to pump out documentaries, TV series and other programming for the time being.
Never mind the boxing or sports in general, Showtime itself could disappear quickly now that it has been swallowed up by a Paramount machine eager for premium advertising spots and guaranteed winners. Only surefire hits and money-spinning franchises will make the cut as Paramount Global reshuffles its pack. The unpredictable sport of boxing, which misses way more than it hits, was deemed too risky and subsequently canned.
Maybe as boxing fans, it's time we realised that even though we tune in week after week -willing to weather the constant shit storms- fairweather TV executives only look at cold hard numbers and cold hard cash. And in those terms, the noble art cannot give them the returns they desire.
HBO already endured a costly merger that saw boxing unceremoniously dumped. Showtime's exit doesn't leave the door open for a grand HBO return. In fact, it makes it even more unlikely that they will come back. Apple TV and YouTube have been floated as possible entrants to the boxing game. Both of those outlets like making profit, though, so moving in to live sport is a risky venture.
Boxing doesn't need Dana White or a UFC model either, no matter how many times we hear the call for this so-called saviour to swoop in and liberate the masses. What it might need is the staff and production talent that will now be looking for alternative employment. Not to mention the fighters who will be furiously checking the small print on their contracts in case a slice-and-dice operation ensues at the PBC.
Top Rank may look over their own shoulders with a nervous glance as ESPN count the numbers. Teofimo Lopez annoyed Eddie Hearn this week by stating that DAZN only has five years left in boxing. Really, that long? It's the Halloween season, and a few more key players should prepare themselves for a fright.
Former money-maker Andre Berto has confidence in Haymon. If he can secure one as mediocre as Berto so many paydays, then anything is possible. After all, the mysterious Uncle Al has a reputation for achieving funds and closing multi-million dollar deals. Haymon always does what is in his best interests. If you throw in FOX, HBO, and now Showtime, Haymon is 3-0 at burning down empires and disappearing to new pastures. Amazon are reportedly front runners to provide him with the next suitcase stuffed full of burnable cash.
One high-profile victim of the cull is Stephen Espinoza, who will be looking for work after he was laid off. What will become of the self-styled "classy" Jimmy Lennon Jr? Introducing KSI, Logan Paul and Salt Papi if recent trends and future projections are anything to go by.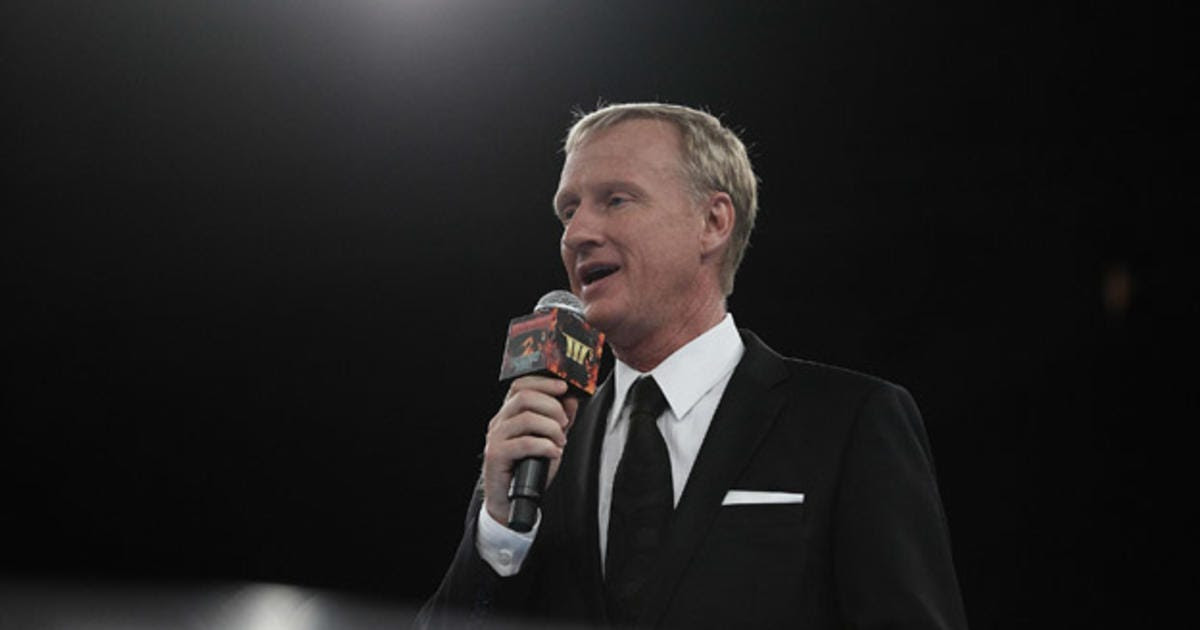 "Ladies and gentlemen, it's MisFits time!" (CBS image)
The way things are heading, the Terence Crawford vs. Errol Spence rematch or Tyson Fury vs. Oleksandr Usyk could end up on a YouTubers undercard. What a scary thought to ease you into the weekend with.
On a more positive note, boxing is a minority interest and has always been on the fringes of sport and wider society. While two young men hold the hunger to prove themselves in the ring, there will always be a demand to let them duke it out. Broadcasters may come and go, but the ultimate game remains the same. Don't panic; we'll survive, even if the networks bail out.
The payments may be lower and hype a little less, but as Showtime departs, another entity will pop up and inevitably fill the gap. Mr percentages, Al Haymon, is working on it as we speak.
---
Catterall edges closer to Taylor rematch
Jack Catterall took one step closer to the rematch with Josh Taylor he craves by outpointing faded legend Jorge Linares. It would be good to watch Catterall move up the gears and see what he's really packing. Linares could still remember all of the old moves but struggled to put the shots together with as much sharpening regularity as before.
Jack was polished and disciplined, opting to keep Linares on a leash behind the southpaw jab. Playing it safe even when the visitor was visibly hurt in the fifth round. It's still not clear whether Catterall holds that extra bit of devil required to succeed at the top level or if he really loves the sport of boxing that much.
That's understandable after suffering a perceived injustice in the first Taylor outing. Linares, meanwhile, announced his retirement from a business he has served for 21 years. Let's hope he keeps his word and stays away from the ring.
---
Nuthouse Notes – Chamberlain and Santillan win
While Catterall was dealing with his business on DAZN, Isaac Chamberlain was busy dethroning British cruiserweight king Mikael Lawal in a domestic dust-up that lacked urgency. Sky televised the York Hall event.
Lawal was far too passive and allowed the challenger to score points and win rounds on activity alone. After the Dan Azeez fight with Joshua Buatsi fell through, the whole evening felt like a letdown. Not for Chamberlain, who also picked up the vacant Commonwealth crown for his troubles.
Later in the evening, Alexis Rocha and Giovani Santillan had a good old-fashioned tear-up in California. Nose busted open, dropped more than once, Rocha's evening was merifully terminated in the sixth. Losing for the second time, the Golden Boy ticket seller will need a serious career rebuild if he is to reach the top level.
Santillan remains unbeaten and gave a post-fight shout-out to his promoters Top Rank who had clearly lost interest enough to ship him over to DAZN for a free hit. They'll be more interested in his career now that the San Diego native has pulled off this shock KO win.
About Steve: Experienced boxing writer, author of 8 books and podcaster of over 400 eps. 20 years in the sport. Covered hundreds of shows for newspapers and Boxing News magazine. Chief video script writer for Motivedia channel and BN+. For enquiries: stevenwellings1982@gmail.com.
| | |
| --- | --- |
| | ReplyForward |