Repeat or Revenge: Katie Taylor returns to Dublin to face Chantelle Cameron
Plus, Butaev beating, Eubank wins & UK double-header looms
This article originally appeared in Steve Wellings' Substack
Katie Taylor hopes to turn back the clock and pull off a career-defining victory when she tangles with Chantelle Cameron for the second time. The rematch takes place at the scene of the first crime, Dublin's 3 Arena, on November 25.
The first fight was hotly contested and worthy of a return. Despite her stellar amateur and pro career, many feel Katie will struggle to roll back the years and reverse the result. In fact, a second defeat could see the 37-year-old hang up the gloves for good.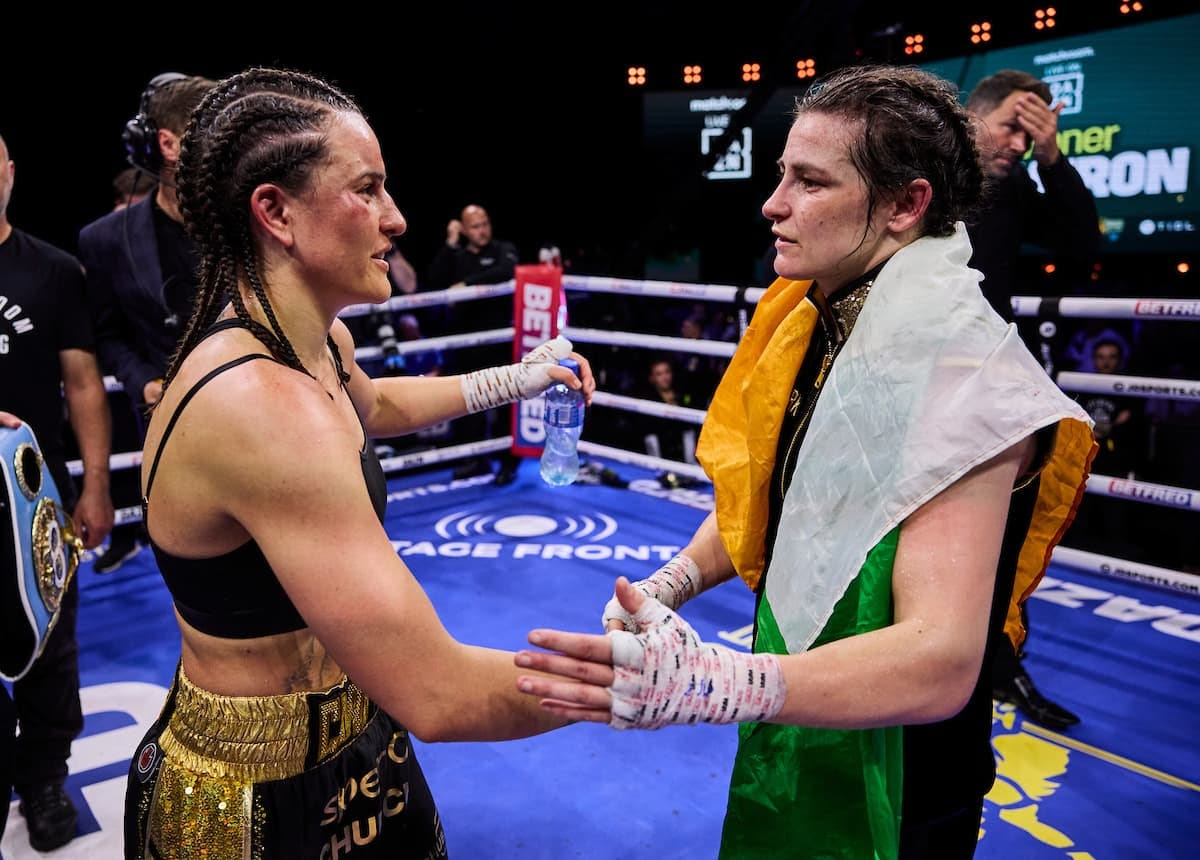 Cameron went to Dublin and outfought the favourite (Fightmag)
The writing was on the wall for the hometown heroine when she entered the ring to a low-key track rather than uplifting, positive walk-on music to excite the crowd. After so many scraps and scrapes, going to the well to get over the line, the fires would not burn like before.
I questioned at the time why, after so long waiting to fight in her home country, promoter Eddie Hearn and manager Brian Petersqa opted for a tough assignment like Cameron rather than a knockover job to celebrate a glorious homecoming. Taylor has been in some brutal nip-and-tuck wars against Delfine Persoon (twice, the first being a questionable decision win) and, most recently, against Amanda Serrano, who rocked Taylor to her boots.
At the tail end of October, Serrano fought Danila Ramos in a 12-round contest with three minutes per round. Chantelle Cameron has called for this bout to follow the same criteria.
That could result in a knockout ending if the powers that be granted such a request. Taylor did so well to topple Serrano in the biggest fight of her career, but that win came at the mountain's summit, and she is now declining. Fresher, younger and, most importantly, very talented in her own right, Cameron is the pick on points again.
If the Northampton woman, trained by Jamie Moore, can pull off a stoppage, then it would be a big tick in the career box. Similarly, if Katie Taylor can roll back the years one last time and defeat Cameron, it would be another remarkable achievement on the record of a woman who has done it all.
Cameron-Taylor 2 kicks off a busy period for boxing as David Benavidez faces Demetrius Andrade on the same night. Eddie Hearn will be sticking around the island of Ireland as one week later, on December 2, Michael Conlan returns to the ring against Jordan Gill. It's the last chance saloon for Mick, who embarks on his third run to a world title. We'll cover that one closer to the date.
---
Brilliant Butaev brutalises ex-Olympian
It's fair to say that Fazliddin Gaibnazarov's pro career has not quite gone as planned. After winning gold at the 2016 Olympics in Rio, the Uzbek southpaw signed a deal with Top Rank to turn pro in 2017. At the time, Gaibnazarov expressed his delight at hooking up with such a prestigious promotional outfit and spoke excitedly about the future.
Based in California, managed by the ubiquitous mover of Eastern Europeans Egis Klimas, Gaibnazarov shook off an opening-round knockdown on his pro debut to string together seven wins before running into Mykal Fox, who inflicted the Uzbek's first loss, on points over 10 rounds. Swiftly excommunicated from the Top Rank family, Gaibnazarov's weight expanded, and he soon found himself way above the 140-pound limit, campaigning back in his homeland and surrounding countries.
Undersized: Butaev towered over Uzbek foe
Absent since December 2022, Fazliddin's latest venture into the ring could not have been more dangerous. By now, up at 154 pounds, former WBA welterweight champion Radzhab Butaev had been struggling to earn some ring time and needed a willing opponent.
Instantly shaking off the after-effects of a sole career defeat to Eimantas Stanionis, the Russian set about his squat opponent, who threw silky shots from the southpaw stance and managed to bob and weave away from most heavy leather in the first couple of rounds.
Shipping increasing damage as the bout wore on, the former Olympian was withdrawn by his corner at the end of the fourth round. Butaev is back on the winning trail and will be hoping to secure another world-level opportunity. Although, given the political tension against Russian fighters, a return to the States is unlikely.
The same can be said for well-supported Gaibnazarov, albeit under different circumstances. There is no beef with Uzbekistan but little appetite for his Stateside return unless it's as a hapless B-Side.
---
KO joy for Harlem Eubank, who improves to 19-0
Harlem Eubank came through the toughest test of his fledgling career by knocking out Timo Schwarzkopf in round 11 with a crunching right hand. Durable Timo had never been stopped in his previous five defeats, so this was a statement for Eubank, who was deducted a point for low blows in the fifth after dropping the German-based Kosovan.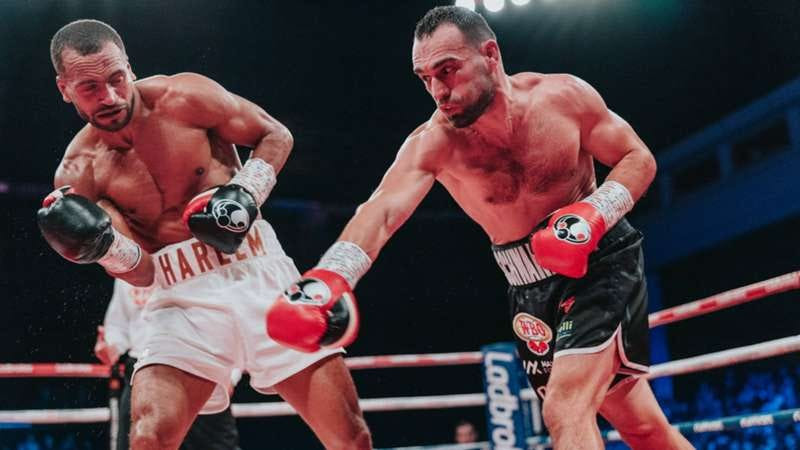 Harlem Eubank scored a statement stoppage (DAZN)
Finishing him off late, Harlem sent the Brighton Centre into raptures and picked up the WBO Global super-lightweight title (previously vacant, surprisingly) for his efforts. More relevant options include the British and Commonwealth champion Dalton Smith or Belfast's Sean McComb.
Eubank is ranked one place below Adam Azim on the BoxRec rankings. He mentioned Conor Benn, who is currently not licensed by the BBBofC. Chris Eubank Sr was part of the ringside contingent offering encouragement to the improving 29-year-old.
---
Nuthouse Notes
Boxxer goes to Wolverhampton on November 18 as Adam Azim bids for the European title. While it's surprising that Ben Whittaker isn't fighting in his home city, Ben Shalom has him out in Bournemouth at the beginning of December instead.
The same night, Nick Ball headlines against former world champion Isaac Dogboe. This entire fight card is stacked, although a smaller venue than the Manchester Arena might've been better suited.
Faded legends: Toney and Ruddock threw down in Jamaica
The past was filled with ill-advised comebacks and guys who should hang them up. Jamel Herring returned to the ring with a facile one-round stoppage over Nick Molina, who was somehow 13-0. Over in Jamaica, James Toney and Donovan 'Razor' Ruddock fought to a contrived draw, while Aussie middleweight Sam Soliman celebrated turning 50 by announcing an early December assignment.
About Steve: Experienced boxing writer, author of 8 books and podcaster of over 500 eps. 20 years in the sport. Covered hundreds of shows for newspapers and Boxing News magazine. Chief video script writer for Motivedia channel and BN+. For enquiries: stevenwellings1982@gmail.com.