Beatdown – Chantelle Cameron aims to punish Katie Taylor's big mistake
Chantelle Cameron says she has come to Dublin to beat up Katie Taylor.
The undisputed light-welterweight world champion puts her titles on the line versus Bray's Taylor in the 3Arena on Saturday night and is adamant she is going to spoil the homecoming party.
The 32-year-old plans to prove herself the best female fighter on the planet with a historic win on the Matchroom-promoted DAZN-broadcast card.
"I'm going to prove to everyone I'm the best female boxer there is. I'm coming into Katie Taylor's backyard and I'm here to take the win and I'm here to beat her up when I'm in that ring," Cameron said.
"I'm more than ready, I'm raring to go. The same with Katie I looked into her eyes and she is ready. It's her homecoming, she is fighting in front of her people, it's going to bring the best out of her and it's going to bring the best out of me."
Cameron thinks her best beats the trailblazers best come Saturday. The Jamie Moore-trained undefeated fighter warns she will be too aggressive, too busy, and too big for the Olympic gold medal winner.
"My work rate is going to be too much, too much pressure, too strong, too big, and a nightmare to be in the ring with.
"I'll always respect her, there is no disrespect, but come fight night I'm here to win, here to beat her up and I'm going to take my belts back to Northampton. It comes to fight night I am going to do what I have to to win, by all means necessary."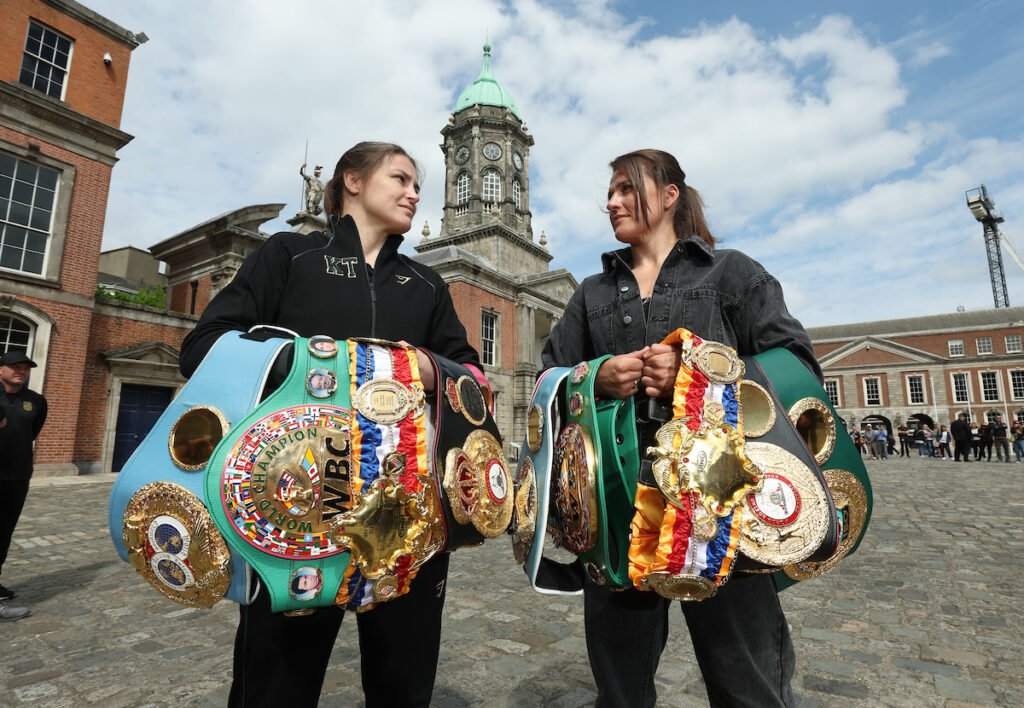 Taylor was originally scheduled to come home against old rival Amanda Serrano this weekend only for the seven-weight world champion to pull out injured.
The Ross Emnait-trained superstar could have hand-picked an easy replacement opponent but demanded the toughest fight available and called out Cameron.
Cameron respects the approach but claims it's a move Taylor will live to regret.
"She will regret calling me out and accepting a fight with me. She deserves all the respect for picking me but it's a bad decision. I'm here to ruin the party."