Meet the Irish Boxer Who Beat Edgar Berlanga
Jason Quigley fights a very different Edgar Berlanga to the one Jack Connolly fought, but the Tipperary man is still confident the Donegal star can mirror his result against the American. 
Ireland has a 100 percent record over Matchroom's latest big-name signing courtesy of former underage international amateur of note, Connolly.
The Clonmel fighter faced and outpointed the now-25-year-old in Russia at 60kg in a Veles Cup clash in Russia 11 years ago.
The Tipp pug took a 7-3 points win over the fighter, who is now being groomed as a Canelo foe, back in 2012.
"It was a great trip all round," he reminisces when talking to Irish-boxing.com.
"We were in the middle of nowhere somewhere in Russia for about 17 or 18 days for a training camp and had multi-nations tournament at the end.
"I remember a lot about the fights, Edgar had a real American pro-am style during the fight. He was a good boxer but wasn't a massive puncher back then. I never really felt worried or in trouble in the fight and was fairly comfortable for all three rounds. I had to change my style a bit to suit his but was still able to box how I wanted to box for the fight," he adds.
Possibly because he won or maybe it's just humility but Connolly says Berlanga hadn't 'Chosen One' vibes about him during their fight or even throughout the training camp.
"Edgar wasn't known back then. The American team from that trip had other massive talents like Shakur Stevenson who's flying… Nico Hernandez then too who won bronze at the Olympics in Rio and has been going well in the pros since. Closer to home, Gary Cully had a great tournament over there and you could tell he was going to go to big places even back then, so Edgar never really stood out from the crowd."
Connolly also claims the outspoken fighter, who put together a 16-fight first-round knockout streak and has been promising to do real damage to Jason Quigley on top of a Madison Square Garden hosted Matchroom promoted bill this weekend, was tame in terms of power and personality a decade ago.
"You'd never have known he'd become a big star name from meeting him back then or be known for being a heavy puncher," he adds before pointing out he was also quite relatable and far removed from the brash demeanour he carries now.
"He was a quiet lad to be honest, the two of us actually got along very well outside the ring too and used talk away a good bit about everything and anything really.
"He was wicked nice too and almost a bit reserved at times so I'm surprised how vocal he got when he switched over to the pros compared to how he was back then, but I suppose that's how a lot of the Americans are in the build-up to fights."
It's that brash and vocal approach that really surprises the former boxer. The Munster man also wonders about his lifestyle and wonders if that may give the Andy Lee-trained Quigley the edge. 
"I've followed his career since he turned pro and as I said I'm surprised he's after getting so vocal. I think a lot of it may be overhyped from himself and his team a bit but the fans seem to love him and he has a massive following in Puerto Rico.
"He seems to be friendly with a lot of celebrities and lives a flashy enough lifestyle. I'm sure he works hard for that and he's entitled to enjoy himself but, at the same time, I think he won't be as mentally ready for the fight as Jason will be.
"Jason came back from an unfortunate loss very well in his last fight and I'm sure he'll be hungrier than ever now to keep that momentum going so Edgar will be in for a very tough night."
Connolly doesn't feel best-placed to offer Quigley advice – after all he fought a teenage Berlanga and, as he points out, the Sheer Sports man has a brilliant team around him.
However, he has an educated eye and it tells him the Berlanga is in for a second Irish test.
"I don't think anything I could say to Jason would make a difference really, I've always been a big fan of Jason from the amateur days even and I'm sure Jason and his team have watched a lot of Edgars fights and done everything right in the build-up, he has a great team around him. I'm really looking forward to the fight.
"Personally I think Jason will be his toughest opponent to date which I'm sure will show from the first bell. I think Jason has too much for him in every way, he'll be well able to outsmart, outbox and outfight him. There's no denying Edgar is a big puncher but I can't see Jason falling into any traps, his boxing skills back as far as the basics are going to be too much for Edgar," he adds before singing of a similar hymn sheet to Team Quigley, suggesting the Matchroom star may have looked beyond Saturday's test.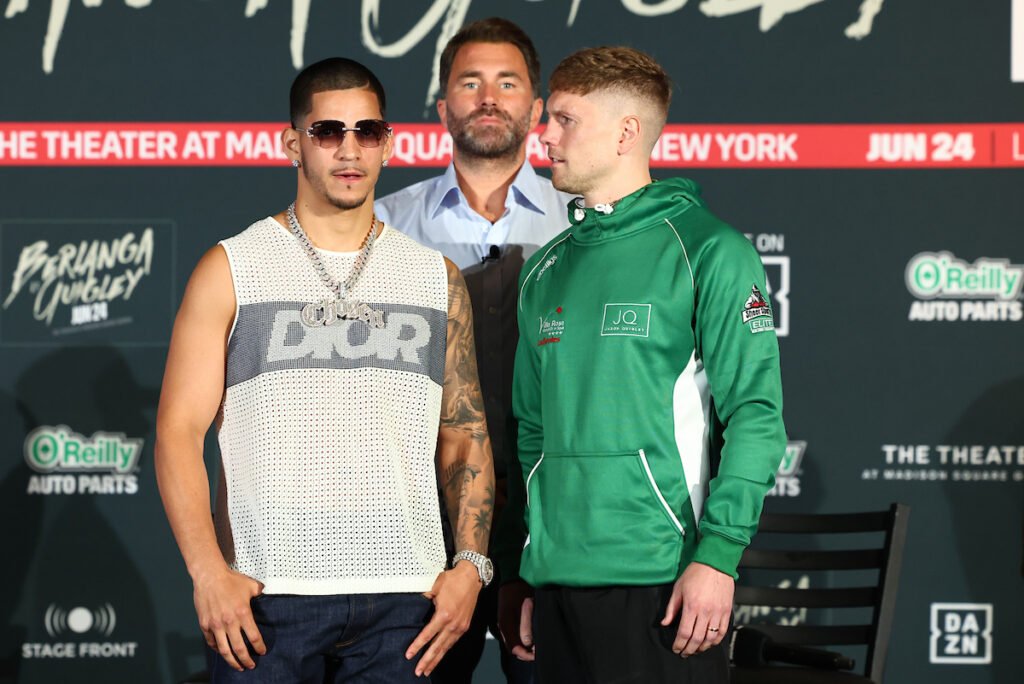 Adding further hope he continues: "It's like Edgar is overlooking him a lot too and really underestimating Jason and I think that'll cost him. Jason has fought and beat better opponents than Edgar has and I think Andy Lee was right when he said Edgar's record is manufactured too to make him into this superstar, I can't see him beating Jason at all and I can't wait to see Jason getting another string of wins together and kicking on with his career."
Connolly had a stellar underage amateur career, also beating the likes of Lewis Crocker and John Docherty as well as competing at European and World Championships but he would leave the sport as he moved into adulthood. Reflecting on where he is at with his own career he reveals he misses the game but knew he had to leave it a few years ago.
"I haven't boxed or even trained in a good few years," he explains.
"I don't think my head was fully in it and I had some hand injuries too, and work and college all seemed to take over, so I had to make a decision. I kind of knew then it was time to pack it in though.
"I still miss it a lot though. I have some great memories and lifelong friends from it and seen parts of the world I never thought I would thanks to boxing and all the lads in Clonmel Boxing Club too. They all seem to be flying which is great to see but I think I'll watch from this side of the ropes for now."
Headline Photo Courtesy of Fethard.com