10 Fighters to Look Out for at the 2023 Irish Seniors [Intermediates]
It's not quite as eagerly anticipated as the entry list for the National Elites – but there is an argument the list of Seniors [formerly intermediates] protagonists makes for more intriguing reading.
When running an eye over the Elite list fans are generally looking to see what weight names they are very familiar with entered at – and more recently, who has opted to skip the tournament.
There is a lot more worth delving into when it comes to the Seniors line-up. The tournament usually facilitates the next learning curve for young talent, meaning it plays host to some extremely talented and decorated underage graduates making their major adult debuts.
There are new-to-the-game punchers who have taken to the sport like a duck to water and thus entered a national competition in a bid to level up further. Among those are always one or two names the boxing rumour mill has built up to be the next big thing.
There are some older veterans of the game who are content at the level and those who know their way around the ring but are not quite Elite capable or ready, as well as fighters with an abundance of more unique backstories.
Ahead of this year's Senior installment, we here at Irish-boxing.com decided to highlight some of the names that stood out to us on the entry list.
We would like to point out that these are not predictions of winners and acknowledge that there is too much talent to highlight each and every boxer in the nearly 200-strong field. However, these are some of the storylines that have caught our attention.
–
Gareth Dowling was the name on everyone's lips post the most recent instalment of the U22 Nationals and remains a topic of discussion going into the Seniors.
The Dublin Docklands representative emerged as champion from a talent-packed 67kg field in March, stopping or dropping every opponent en route to an eye-catching Irish title win.
The Irish fraternity remain intrigued by power, which has been compared to the legendary and lethal wallop Phil Sutcliffe Jr once lit the Stadium up with – and they want to see if it translates to the adult ranks. There is also a desire to see if the youngster has a little more about him after spending time in the High Performance and getting a solid camp under his belt for the first time in a long time.
TJ King is another underage graduate testing the senior waters and his two knockout wins at the World Youth Championships last year suggest he too can punch.
The Phoenix Ballyboughal also has a redemption story, battling back from lockdown-induced depression and serious weight gain to earn major national success last August.
King dethroned reigning champion – and subsequent Elite runner-up – Joshua Olaniyan to be crowned 75kg National Youth king of Ireland.
The fighter, who has ambitions to become Ballymun's first Olympian, now makes his national senior debut as a fighter to look out for.
20 years older than King in a weight class below is David Prior, the oldest competitor in the entire tournament.
The 38-year-old only took up boxing two years ago but isn't an old dog you can't teach new tricks.
The Celtic Eagles fighter won the Emerald Box Cup and the Celtic Box Cup last month and enters a stacked 71kg Senior field in good form.
Catherine O'Grady has been in and out of boxing for years but has enough combat sport experience for some to big up the Carrickmacross Boxing Club boxer's chances. The super-decorated World Kickingboxing champion is straight into the 50kg final where she fights Amber Byrne of Arklow.
OLOL's Sophie Atallah enters with limited competitive boxing experience but has enough positive noise surrounding her for fans to take note. With talk of the Limerick woman going pro, she will look to make an impression in the 54kg category which she shares with the massively domestically decorated and internationally experienced teen operators Shakira Donoghue and Robyn Kelly.
A Youth Champion with international honours in her locker, Laura Moran is a prospect the fight fraternity are excited to see at adult level.
The St Anne's boxer who won World Youth bronze and European Youth silver medals in 2022, wowing with her relentless never-say-die approach and will be vying for her first senior title at 70kgs.
Irish boxing has been crying out for a big man with international quality since the retirement of Big Breakfast Dean Gardiner – and Crumlin Boxing believe they have the man to fill the void.
Indeed, so big is experienced coach Phil Sutcliffe on Martin McDonagh, that he believes he could push for an Olympic qualifier slot. The super heavyweight will first have to come through a massive 13-man field in these Seniors.
Not quite as big a man, Nathan Ojo has been noted as one to watch in not quite as big a field. Esker's World Youth bronze medal winner enters the man's world at 86kgs and will be looking to show why all in Lucan rave about his talent.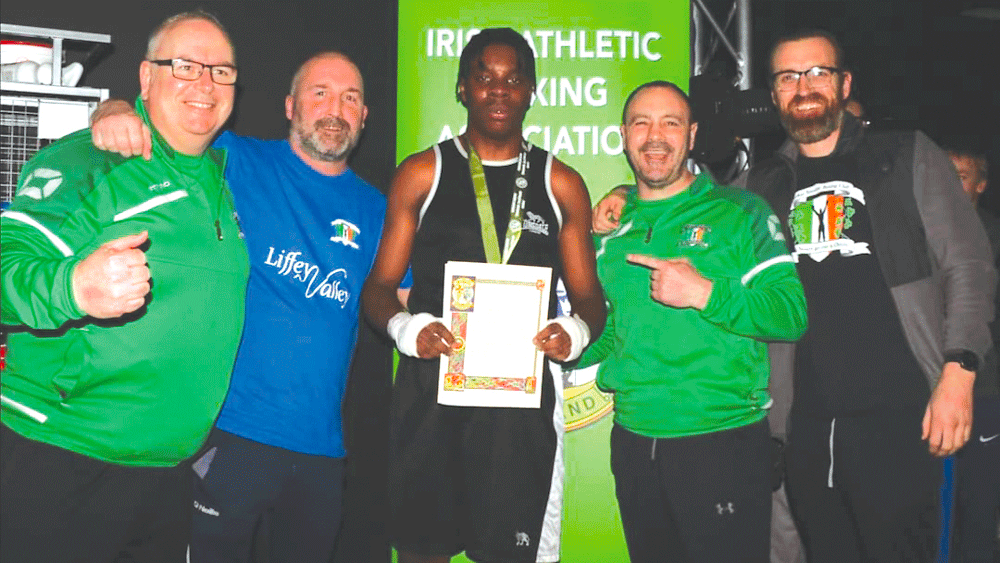 Josefien Betist had plenty in the Stadium acknowledging her ability when she won a National title at under-22 level this year.
The Edenderry-based Dutch fighter's bid to make it back-to-back Irish title wins will be one-to-watch watch by many over the next few weeks.
Semi-finalist last time out and the reigning U22 champion, James Whelan will be hard to beat. The last man to defeat Willo Hayden – in the 2020 U18 final – the talented Whelan weighs in at 80kgs for Dublin Docklands.