Katie Taylor tells Cameron 'I Can't Let That Happen'
Katie Taylor [22(6)-0] warns Chantelle Cameron [17(8)-0] she is willing to go to places no fighter has ever gone when she fights in the place she calls home on May 20.
The Irish Icon will trade leather for the British world champions' four light-welterweight world titles at the 3Arena later this week.
The undisputed lightweight champion hasn't shied away from admitting a big test awaits. The Bray game-changer says she is fully aware of how talented the Jamie Moore-trained fighter is and that she will be boosted by the chance to register a career-best and historic win on a massive stage.
However, the Irish sporting great points out she too has external factors she can tap into and is adamant the Brit won't spoil the homecoming party.
"This is my homecoming, she is coming to spoil the show and I can't let that happen," Taylor said.
The Olympic gold medal winner is so determined to win she warns she will do whatever it takes to ensure her hand his raised at the Dublin Docklands venue.
"I don't think I've been as motivated for a fight in a long time, even the Serrano fight.
"I know the challenge ahead of me, I know it's a tough fight, it could be another fight of the year contender, but I'm prepared to go where nobody else goes. I think I've shown in previous fights that I'll do what it takes to win on May 20."
Expanding further the Ross Enamait-trained star highlighted Cameron's threat but remained adamant she will come away with another famous and legacy-cementing win.
"She is motivated, it's the hardest fight in her career, she has the chance to make history herself. I know the challenge ahead of me but I do believe I will become a two-weight undisputed champion on May 20. I feel like I have too much experience for her and I've had the harder fights along the way as well. I just can't wait to step in there on May 20 and perform to the best of my ability, people are going to see the best of me I feel."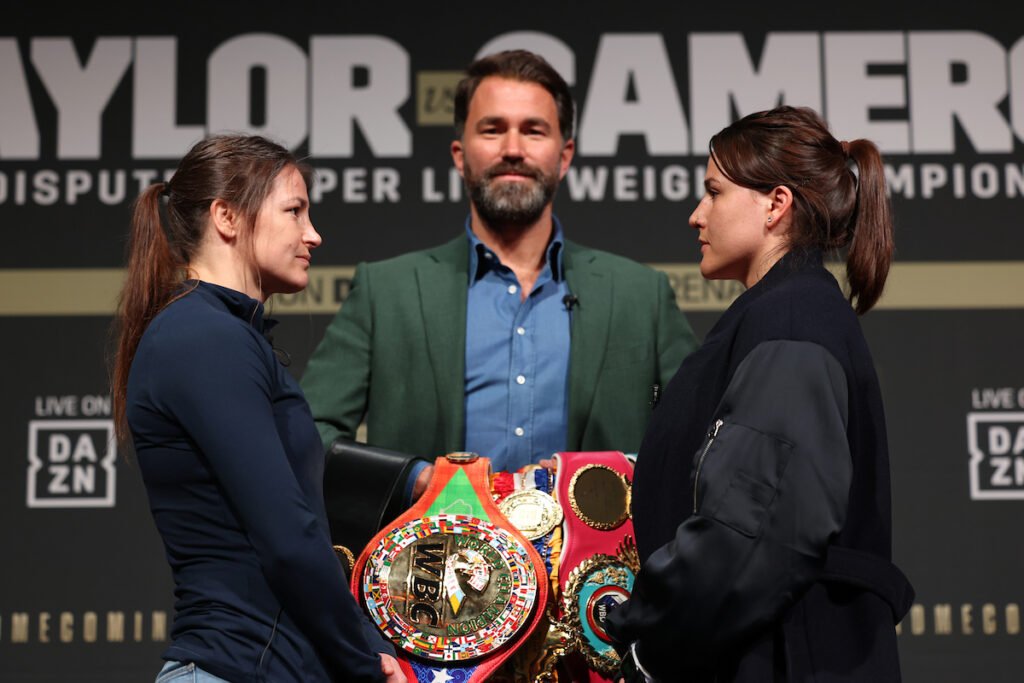 It's all business from Taylor and she is focused on the job at hand – but she did leave a little room for some homecoming excitement.
"I can't believe this is happening. I have a chance to fight at home as a professional boxer and I have a chance to become a two-weight undisputed champion in front of my home crowd. It's absolutely incredible."