Job done for Anthony Joshua but Wilder a different story
In the build-up to last Saturday's heavyweight clash between Anthony Joshua and Robert Helenius, the hometown hero tried to mask his fragile state with a poorly executed self-motivation strategy. Standing next to Helenius for the cameras, Joshua bluntly asked his rival if he had a problem with him.
The bemused Finn replied that he had no problem. "Why are you looking at me, is there something wrong with you?" AJ continued. Given the fact that they were preparing for a fight two nights' later and this was designed as the customary staredown, it was a bizarre interrogation.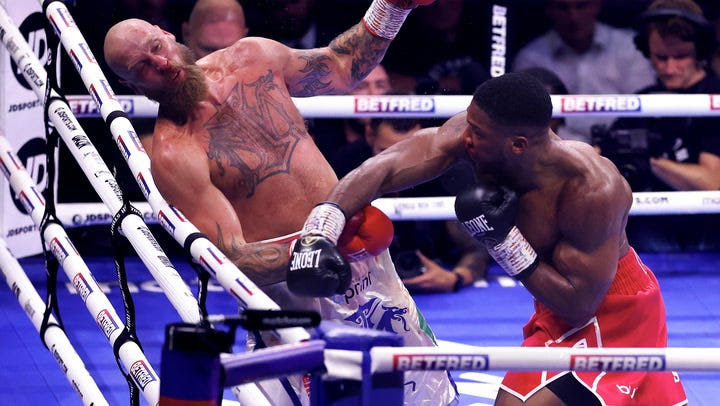 Photo Credit: The Independent
It's not the first time we've been left bemused by Joshua's line of communication. Perhaps the multi-millionaire heavyweight, who has been carrying the physical and mental weight of British boxing for a decade, is trying to think about too many things. Stepping in behind the jab on fight night, throwing a calculated right hand, implementing Derrick James' instructions saps a lot of cognitive energy.
The aggressive, forward-motion approach of the Oleksandr Usyk rematch would appear to be a better strategy for AJ who tagged the body with great success that night. Since then, Robert Garcia was unceremoniously bombed out and replaced by the man who also handles Jermell Charlo, Errol Spence Jr, Frank Martin and now Ryan Garcia. Things are getting busy in the Texas gym and that's not necessarily a good thing as attention and quality time becomes sparse for the collection of stars.
It's unlikely that a stationary, ponderous approach would work against Deontay Wilder. Standing within range of that booming right hand has proven to be boxing suicide for a number of the former WBC champion's challengers. Applying pressure, dominating the space while letting the hands go is when the Watford man is at his best.
For all of the negativity surrounding his tepid display, the lasting image lingering from Joshua's most recent performance is of a highlight reel KO. Exhausted giant Robert Helenius left his chin dangling out long enough to get tagged flush and ended up on his back. That's what the crowd came for and what many of the casual viewers will remember.
Talk has now turned to what's next for the heavyweight division. Joshua may need another tune-up opportunity to refine his skills under new coach James. Realistically though, at 33 years of age, what more has he got to learn? He's either ready for Wilder now or not. While conceivable that Joshua beats Wilder, it's unlikely he can get through 12 rounds without sampling the power and staying out of the eye of a frenzy.
Anthony is not a bad fighter. He has talent, power and boxing ability. However, confidence and mindset are crucial factors in this sport and the 2012 Olympic gold medallist has been behaving erratically for a while. Straight after stopping Helenius he wandered off into the crowd, seemingly aiming for the dressing room before being dragged back into the ring to offer some post-fight insight and check on his ailing foe.
Barely able to finish the interview with DAZN, making vague remarks about carrying the division on his back despite holding none of the four belts, thankfully it did not enter Usyk 2 territory when a possibly concussed Joshua grabbed the mic and rambled incoherently.
Wilder, meanwhile, appears to be cut from a different cloth when it comes to mindset. He's so confident it borders on delusion. Even after Tyson Fury manhandled him on two separate occasions he carried an unshakeable faith in his power and prowess.
Indulging the myriad of conspiracy theories presented by the dark corners of the internet, Wilder operates with relentless belief. This, in my humble opinion, makes him even more dangerous against Joshua when they eventually meet.
---
NAVARRETE DEFEATS VALDEZ IN MEXICAN CLASH – SHAKUR FIGHT REALISTIC?
Emanuel Navarrete's long winning run continued in Arizona as the San Juan man had too much nous, power and toughness to outlast Oscar Valdez. Maintaining control within the chaos, Navarrete was able to time Valdez repeatedly with his shots to win a deserved 12-round decision.
The bout was competitive but never close. Across the final three rounds Valdez was fighting to stay in it. Aside from a solid fifth round, Oscar struggled to decisively claim a session, which resulted in the lopsided totals.
Navarrete's fundamentals are lacking, his footwork and balance off kilter, leading to strange angles and a difficult style to work out. Valdez loaded up on his left hook while struggling to make sense of the unorthodox combinations coming his way. Seated next to each other at ringside the portly figures of Erik Morales and Marco Antonio Barrera watched on intently. These two Mexican legends engaged in one of the all-time great boxing trilogies. Barrera stood at times and applauded to express his delight at this modern day offering.
Valdez's trainer Eddy Reynoso seemed to think Navarrete would tire late on but it was own fighter's face that showed the scars of battle by round seven as bruising, swelling and an abrasion took their collective toll.
Valdez had his moments but the power didn't seem to bother Navarrete, who in turn punched right through Valdez's guard. By round 11, Valdez's face was seriously impaired down the right hand side while Navarrete was seemingly fighting with a damaged right hand. Valdez had neglected the body, probably due to his opponent's scything shots underneath.
Back to Morales-Barrera and ESPN was trying to talk this up as the potential next great Mexican trilogy. However, while the pair produced an intensely exciting contest, it wasn't fought on even terms for long enough to warrant a rematch. The commentary team turned it into a closer fight than it was in truth.
In the light of Navarrete's win, some have pointed to the possibility of a Shakur Stevenson fight. While it would be an intriguing matchup, guaranteeing Emanuel a bumper payday, it is not likely to happen given the fact that Navarrete is still acclimatising to 130 and Shakur has plenty to occupy himself up at lightweight. A catchweight has been mentioned.
---
EMMANUEL RODRIGUEZ WINS VACANT WORLD TITLE ON SHOWTIME
Fighting in front of a sparse crowd (most of them had disappeared after the undercard fizzled out) Emmanuel Rodriguez took advantage of the vast experience gap and level of opposition to outpoint Melvin Lopez over 12. Apparently promoter Tom Brown secured the rights to this fight with a paltry $25,000 purse bid. The action reflected the value. Rodriguez had competed at a much higher level compared to Lopez who stayed in it for the first four before things truly slid away from his grasp and survival instincts kicked in.
Despite landing some powerful body shots, Melvin struggled to consistently get inside. Standing in the pocket opting for power shots rather than pulling off to the side, Rodriguez is not as mobile or movement-oriented as in the past.
Rodriguez is an economical boxer who sometimes leaves things open to interpretation on the judges' scorecards. The Puerto Rican's right eye was also starting to close as the southpaw-orthodox clash made things awkward.
Rodriguez (on floor) was punished by Inoue (Ring TV)
Rodriguez knocked down Lopez three times in the final 30 seconds, cementing a 120-105 win across the board on the cards. The dominant winner won back the same belt he lost to Naoya Inoue by brutal stoppage some four years ago.
While the main event lacked a little spark at times, there was plenty of incendiary activity on the undercard as the chief supporting bouts lasted one and two rounds respectively.
Gary Antuanne Russell's opponent Kent Cruz came in overweight and Russell took little time pounding his soft midriff. A sneaky left hand rib tickler had Kent rolling around on the canvas for an early finish.
Gabriel Maestre had far too much man strength for the sprightly Travon Marshall, stopping the youngster in two rounds. A spiteful right hand started the destruction.
---
NUTHOUSE NOTES
Christian Mbilli returns to action on September 8 in Quebec against Demond Nicholson. While shopworn at this stage of career, Nicholson is an experienced survivor who went 10 rounds with Demetrius Andrade earlier in the year and was the first man to extend heavy-hitting Edgar Berlanga. This is the latest offering from Canadian outfit Eye of the Tiger management, which will be televised on ESPN.
It was the night of the heavyweights at the O2 Arena as the supporting cast of big men served up some dire fare before Joshua-Helenius. Derek Chisora laboured to a decision over Gerald Washington, once the former title contender stopped jabbing, moving, landing shots and remembered his role as imported fodder. Chisora won but it feels like he's about three fights away from joining the Kevin Johnson and Danny Williams circus.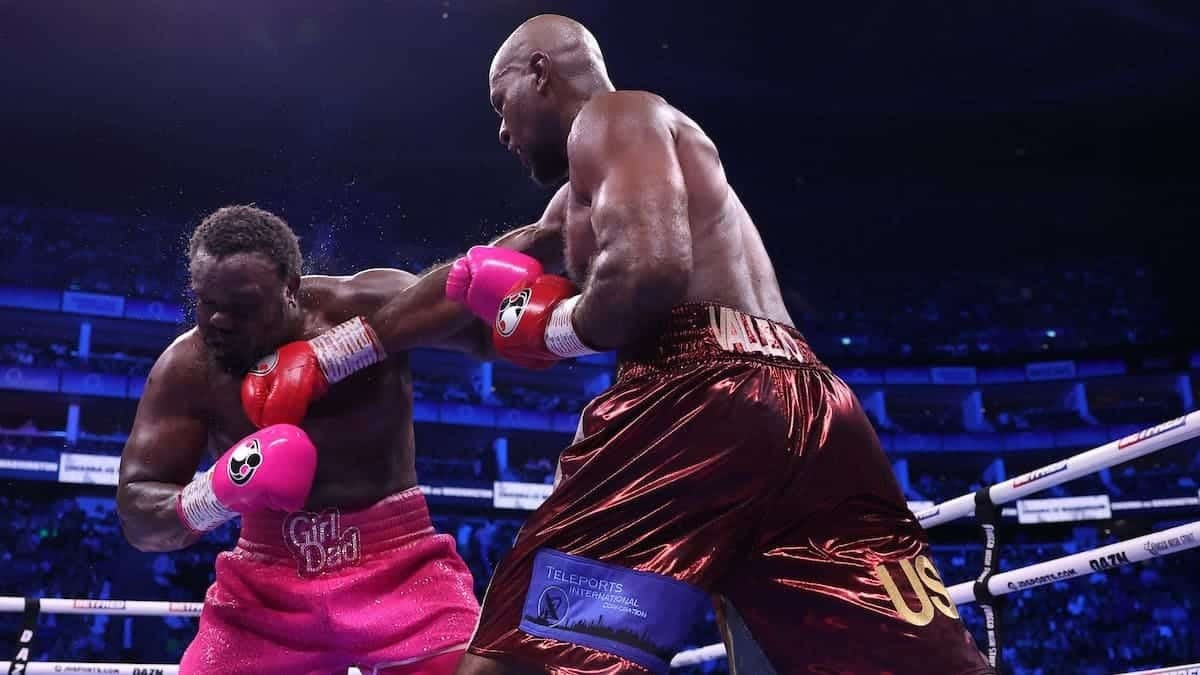 Chisora (left) needs to pack it in (Metro)
Filip Hrgovic reminded everybody why the IBF are in no hurry to push him forward for an overdue title shot. After arguably losing to Chinese southpaw Zhilei Zhang, the Croatian finally found the punch that mattered to dismiss strong but limited Aussie Demsey McKean in the last round. The fight of the undercard featured Johnny Fisher, of bosh fame, stopping Harry Armstrong after seven rounds of roly poly fun and frolics.
Enjoying a brief break from her role of making people take women's boxing seriously, world champion Ebanie Bridges was rolling around at ringside in a revealing costume. Hanging with Conor McGregor, supping Forged Stout, grinning Bridges was MMA handled into a pose by McGregor at every photographic opportunity.
---
About Steve: Experienced boxing writer, author of 8 books and podcaster of over 400 eps. 20 years in the sport. Covered hundreds of shows for newspapers and Boxing News magazine. Chief video script writer for Motivedia channel and BN+. For enquiries: stevenwellings1982@gmail.com.